Meet Our Bambasement! Team
Mark strives for the 3 R's RIGHTS, RESPECT and RESPONSIBILITY of his company and customers.
Mark Williams is the owner of B.A.M!, and father of 4 beautiful daughters with 4  grandsons and one precious granddaughter.
Mark has worked in the waterproofing and foundation repair industry for over 15 years and has over 34 years of experience in the construction industry overall. He has earned a reputation in Central Iowa of exceeding expectations and possesses a well-rounded  expertise that few in the industry can claim.
Mark looks forward to getting down into the basement, finding a solution for the customer, and helping them to understand their problem.
To Mark, success doesn't mean having a nice car and a big house while his employees  rent apartments and drive clunkers, and his customers pay too much money for a low-quality solution. A successful company is one where everybody does well, all employees are happy, and B.A.M! customers are satisfied for the life of their home.
Mark strives to bring back old-fashioned integrity with a modern look by taking  strong values and combining them with modern technology. He says, "Too many  companies let modern technology take over their values and customer service and this  makes them lose the WOW experience for their customers.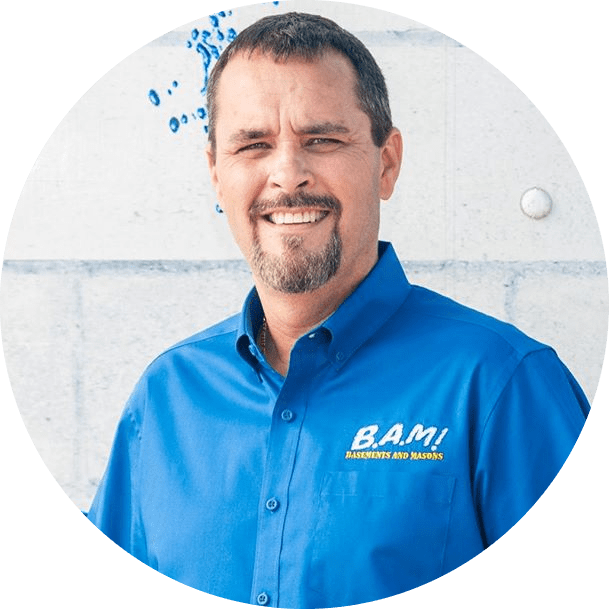 Jeremy started as a laborer in the summers when was 13 years old and eventually worked his way up to journeyman and foreman. He is known as a general manager, problem solver, communicator and advocate for B.A.M customer service and sales. He says "I want to show clients that honesty and integrity are not a thing of the past. A person's word still means something to B.A.M and we will stand behind ours."
Jeremy R. General Manager
Most clients love Jeremy because of his ability to walk clients through complete job  solutions and what to expect throughout the process. Jeremy's extensive masonry  background make it possible to find the best solution for clients. 
Jeremy says "Visualization and proper planning come into play when dealing with existing  construction. Reverse engineering, stabilization and retaining integrity of the existing  structure is paramount."
"When starting work with B.A.M I could see that Mark's ideals were aligned with mine as far  as how to treat our clients and the quality of work that needs to be in place. Proper  installation, quality materials, respect for clients, ability to adapt to each unique situation  and find a solution.
These are just a few examples of what makes a company successful. B.A.M is becoming a  success story and that's what being a part of this company is. I pride myself on being part  of this growth and to the future of this company,
She brings her organizational skills and leadership abilities to the B.A.M! team.
Vanessa S. Sales & Marketing Manager
Vanessa resides in Des Moines with her husband and 2 of her 4 children. Two of them are  grown and out on their own. She just welcomed her first grandchild into the world.
She has been in the construction trades for her entire career, mostly in the office but has  worn a tool belt and framed houses as well. She is very passionate about making sure her  coworkers have everything in place that they will need to ensure they succeed at whatever  they are doing. 
She enjoys the day to day challenge of preparing the jobs for the crews,  ordering materials, and making sure everything is in place to set them up for success.
When not at work, you will most likely find her enjoying time with her husband and kids,  spending time on their patio in the back yard, or in her soap lab creating beautiful hand-  crafted soaps and lotions.
Does your insurance cover leaky basement? Ask Amanda
Amanda lives in Des Moines with her boyfriend and 2 boys. She grew up on a 100+ year old century farm in small town Iowa where her family raised hogs, cattle and farmed corn and beans.
She has been in the food service industry most of her working career. She enjoys people of all sorts and is a fantastic listener and helps problem solve. She loves to plan events, most recently planned a fund raiser for a friend that has leukemia to help with medical expenses.
When Amanda isn't at work you will most likely find her at home planning her next gathering or out on the motorcycle with her boyfriend when the weather is cooperating. She loves entertaining friends at home and being out on the motorcycle when they have kid-free time.
Monika loves to build up companies with her marketing skills
Monika is born and raised in Colorado and found her way to Iowa almost 5 years ago, now she calls Iowa home.
She has been in the service industry for most of her career. Also has extensive knowledge in the construction industry. She is passionate about building relationships with customers and fellow team members. 
Monika loves to build up companies with her marketing skills, she has a degree in  Graphic design and is bringing her talents to BAM to help grow the company.
When Monika isn't working you can find her with her family. Taking frequent trips back to Colorado.
Her son keeps the family busy with Taekwondo and soccer events. You can also find her camping, fishing, hiking, biking, and enjoying the outdoors.
Masonary Contractor, Basement Waterproofing Expert
Michael was raised in Johnston but chose to move to Adel with his wife and 2 children about 10 years ago to raise his children in a smaller community. 
He is a mason by trade and has over 20 years' experience. He is deeply passionate about making people happy and giving them what they expect. 
He wants to feel like he has done a great job and does not want any surprises when it comes to customer satisfaction.
He brings a remarkably high level of customer service and continued quality of workmanship to BAM Basements and continues to provide that service in everything he does.
Indianola, Iowa foundation repair specialist
Eric lives in Indianola with his 2 children, where he is active in his community. 
He is a member of the Indianola Elks. The club does a lot of volunteer work and donates money to many different charity groups and offers scholarships to students to help further their education.
Eric has been with BAM Basements since 2019, but has been in the foundation repair business since 2008. Over the years he has had extensive training in basement waterproofing and foundation repair.
Eric spends most evenings and weekends at his children's activities. They are involved in many sports and music activities. When he isn't chasing the kids around, he spends his time doing home improvement projects and watching football.
Winterset Masonry, Concrete Sealing & Flatwork Expert
Jeff grew up in Winterset and now resides in Des Moines. He has 30 plus years experience in masonry, carpentry, home remodeling and home improvements.
He is known for his hard and honest work. Jeff has a knack for figuring out problems quickly with a straight forward approach.
Among his strong talents is customer service. Over his fifteen years in the granite business Jeff has worked with clients finding solutions to their concerns. 
Jeff has developed the ability to calm clients and leave them happy and confident their concerns will be resolved.
He brings his experience and knowledge to the B.A.M team.
We Fix Wet, Moldy & Humid Basements
Nick joined our team in December 2021 of last year.
He brings 13 years of foundation expertise to BAM Basements.
He is known for his keen ability to diagnose foundation problems and loves doing what he does. One of his favorite things is helping his clients achieve peace of mind.
When he isn't at work, you will likely find him on the golf course, on the patio with friends, or helping on his dad's farm.
Restore the Value Of Your Home. Certified Inspector
Todd lives in Des Moines with his wife and has four children of which two are at home and two are grown. He introduced his younger children to Tae Kwon Do so they would understand that daddy wasn't the only one who expected them to have and cultivate discipline.
Todd grew up in Davenport where he graduated from Davenport Central High School. While in high school Todd was on the track & cross country team as well as the wrestling team.
Todd has his license in life insurance, has eight years of supervisor experience and has worked as executive chef at Iowa Machine Shed. Todd worked as a floor sander and doing trim work where he enjoyed the quality woodwork they created. 
Todd brings his desire to provide top quality work for an outstanding finished product to B.A.M!
Get Your Free Inspection & Quote!
Brandon resides in Des Moines with his wife and eight children ages 2, 3, 8, 10, 13, 15, 17 & 19 two of which are foster children. Brandon graduated from Winterset High School then went on to two years at Ellsworth Community College on a baseball scholarship and one year at Missouri Valley College on a rodeo scholarship.
While in high school Brandon spent his summers framing houses and worked as a department manager at a home improvement store after college.
When Brandon is not at work he enjoys activities with family and friends such as playing softball, camping, swimming and barbecuing.
At B.A.M Brandon intends to provide top quality work and help B.A.M progress into a household name in basement waterproofing.
Bambasements Poly Lifting Expert & Leader
Josh grew up in Florida, and now lives in Des Moines. 
He went to school for motorcycle and small engine technology.
He brings 4 years of prior waterproofing and wall support experience and 1 year of poly lifting experience to BAM Basements.
When not at work you will find Josh spending time with his 3 children at their activities, fishing, relaxing, traveling or exploring new areas.
Steve Brings He's Construction Trade Skills To Bam's Team
Steve was raised in Virginia and now resides in Des Moines.
He spent four years in the Army infantry where he was deployed to Afghanistan in support of Operation Enduring Freedom. While in the Army he received 14 awards and medals and is certified in first aid and warrior leadership.
Now he enjoys spending time at home relaxing with his animals and watching TV.
Outside of his time in the armed forces Steve has been in the construction trade most of his life and is bringing that experience to the B.A.M basements team.
Blakes Construction Experience Is Why Bambasement Professionals Are Rated #1 In Des Moines
Blake lives in Des Moines. He brings his construction experience to BAM
Blake spends most of his free time with his son. He is Blake's motivation to succeed and become a better man and father.
He wants to give his son the best life possible and to help him realize his dreams.
Repairing the system a second time can be quite an avoidable expense.
Jake lives in Des Moines and is a chef of 15 years by trade.
Jake has an eye for detail and the ability to move fast and efficiently. He feels this skill serves him well at B.A.M.
You can find Jake at home or the golf course when not at work.
Jake enjoys helping people and takes great pride in being a professional and providing exceptional service.
Dakota brings previous basement experience to our company.
Dakota recently moved back to Clive, where he grew up, after spending some time in Cedar Falls, Ames, Ankeny and Johnston.
He brings his year of previous basement experience to our company. Before that he was an automotive detailer for five years.
When Dakota is not working you will find him on the disc golf course, playing ultimate Frisbee, watching sports or spending time with his dogs.
Brings 25 years of masonry experience.
Matt resides in Pleasant Hill with his wife.
He joined our team this year, bringing with him 25 years of masonry experience.
His ability to troubleshoot masonry issues and achieve quality masonry results is invaluable to BAM Basements.
He enjoys building masonry projects and seeing the finished results when completed.
Dan is our newest Waterproofing specialist:
Dan is from Davenport and Sabula (Island City) in Iowa.  He now resides in Ankeny with his spouse and 7-year-old daughter. He attended Iowa State University and received a bachelor's degree in city planning. He is bringing his years of experience in dirt work and hardscaping and sales to the BAM team.
Along with his professional reputation of being honest, building rapport and problem-solving skills.
Dan has been involved with BAM one way or another since the start of the business. Mainly doing digging and excavating.
He is very passionate about problem solving and seeing the end results and Satisfied customers.
Dan is excited to contribute to the fun BAMily culture, driving results and growing the company.
In his personal time, you can find Dan spending time with his family, snowmobiling, traveling, riding side by sides, being outdoors and boating.
Matteo, Passionate , and has a knack for Perfection.
Matteo is very passionate about perfection. Leaving a job knowing he did his best and seeing the results is an award.
He loves to learn and continue his education to continue to keep growing. When not at work he loves watching movies and talking about movies.
When not working you can find Matteo spending time with family and friends.
Cooking food, watching movies, playing with his dogs, and exercising.
He is looking forward to contributing to BAM's quality services to the customer. He is also looking forward to being able to offer new perspectives or an approach to tasks that can make the job more efficient or easier for BAM and fellow co-workers.
Zach's Our Newest Heavy Equipment Operating Specialist:
Zach has lots of experience with heavy equipment operating. He is excited to bring his knowledge to the BAM team and wants to make sure the customer is happy and satisfied with the work done.
He has worked in a mining company and landscaping company. He likes to help friends and family with projects.
When not at work you can find Zach spending time with family and friends. He likes to spend time playing basketball and volleyball.
Central Iowa's Most Reliable Waterproofing & Basement Repair Experts...
B.A.M! Basements and Masons is a locally-owned business founded in 2012 by Mark Williams.
"Every consideration given to total customer satisfaction with the highest quality workmanship," the pillar of the B.A.M! name.
Jason, Brings Value To Bam's Concrete Lifting & Flatwork Division:
Jason grew up on California, he relocated to Waukee Iowa to be with family.
He has 32 years of masonry experience and started the trade when he was 16. Jason is excited to bring his knowledge, experience and attention to detail to BAM.
When he is not working you can find him spending time with Friends and Family.